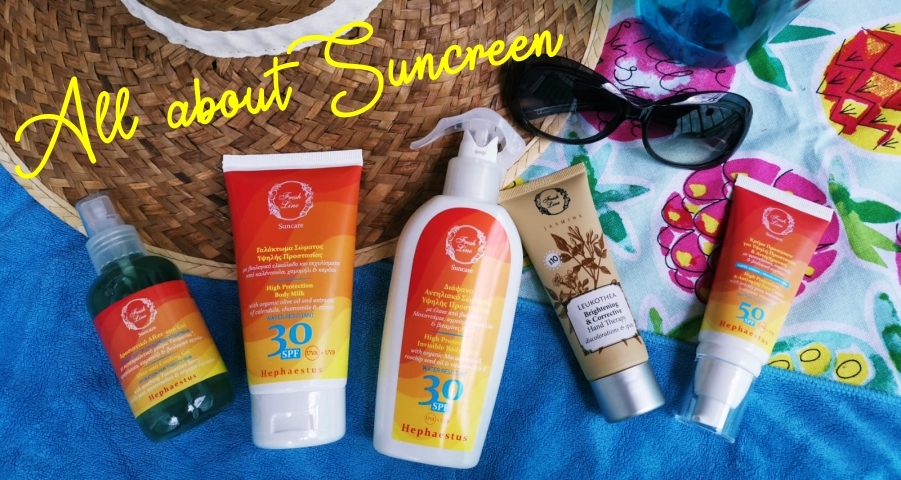 All About Sunscreen
Amidst all the supplements and fancy serums, don't forget the most essential protection for your skin; Sunscreen! Sunny days are perfect for getting active outdoors, but the sun's rays can badly damage your skin, especially when you are exposed to them in more ways than you expect each day. When you are not protected with sunscreen, even a limited exposure to the sun's radiation can cause damage to your skin. That golden tan is actually the earliest sign of sun damage, as the sun's outer layers darken to block out the sun. Sunscreen protection is crucial to prevent further, irreversible damage to your skin. Maybe it's a cloudy day, and you are planning to drive to work and spend the entire day indoors. Do you still need sunscreen? The short answer is undoubtedly YES! Harmful UV rays penetrate through clouds, and can even reach you through car and building windows. While the damage is milder than that of direct sunlight, it still speeds up the skin's aging process. As one of the easiest, most affordable ways to prevent premature aging and conditions like skin cancer. That is why sunscreen should be an essential part of your everyday skin care routine.
How Sun Exposure Damages Your Skin
The skin has a natural defense mechanism, but it's insufficient to protect against excessive sun exposure, such as when you are grabbing lunch out in the blazing mid day sun. Sun exposure harms your skin in two major ways; UVA (Ultraviolet A) rays speed up aging, while UVB (Ultraviolet B) rays burn your skin. Without protection, this can result in long term damage like wrinkles, sagging skin, age spots, roughness, brown pigments and darkening. More serious health consequences include hypersensitivity reactions to sunlight and skin cancer.
Know The 5W's & H Of Sunscreen
Who - Everyone under the sun.
What - Broad spectrum SPF15 or higher, SPF 30 or higher for a day outdoors.
When - Every day, 30 minutes prior to going outdoors. Reapply every 2 hours.
Where - All exposed skin.
How - One ounce (shot glass full) to entire body for each application.
Why - Reduce your risk of skin damage and skin cancer.
Who Should Use Sunscreen?
The short answer is everyone! Men, women and children over 6 months of age should use sunscreen everyday. This includes people who tan easily and those who don't. Remember your skin damaged by sun exposure over your lifetime, whether or not you burn.
What Type Of Sunscreen Should You Use?
With so many choices, how do you pick a sunscreen that's right for you? The Skin Cancer Foundation believes that the best sunscreen is the one you are most likely to use, so long as it provides safe and effective protection, and is broad spectrum with an SPF 15 or higher. Learn about your options to make an informed choices that best suits your needs. The happier you are with your sunscreen, the more consistently you will use it.
Sunscreen Ingredients
Sunscreen includes active ingredients that help prevent the sun's UV radiation from reaching your skin. Here's how the two types of sunscreen work for you. Physical sunscreen ingredients - including minerals titanium dioxide and zinc oxide, block and scatter the rays before they penetrate your skin.
Chemical Sunscreen ingredients - like avobenzone and octisalate absorb UV rays before they can damage your skin.
Are Sunscreens Safe?
While physical sunscreen may be less likely to cause skin irritation than chemical sunscreens, both types have been tested as safe and effective. In fact, many sun protection products available today combine both types of ingredients. All active ingredients in sunscreen are chemically derived. Some people may think of physical sunscreens as more "natural", or even "organic", but they are actually inorganic compounds. The sunscreens many people call "chemical" are actually "UV organic filters".
What Does SPF Mean?
SPF stands for Sun Protection Factor. The number tells you how long the sun's UVB rays would take to redden your skin if you apply the sunscreen exactly as directed compared with the amount of time without sunscreen. So, if you use an SPF30 product properly it would take 30 times longer to burn then if you used no sunscreen.
What Level Of Sunscreen Do I Need?
If you are inside most of the day with just short intervals in the sun, you can use a sunscreen or cosmetic product with SPF15 or higher. If you spend a lot time outdoors, especially when and where the sun is strongest, you need an SPF30 or higher, water resistant sunscreen. No matter the SPF, reapplication every two hours is key. Sunscreen must also reapplied immediately after swimming or sweating.
Broad Spectrum Protection
In the past, most sunscreen only included information on product labels about protection against UVB - the rays that caused sunburn, and not UVA - the rays that caused tanning and premature aging. Now that UVA dangers are well known, broad spectrum sunscreen provides clear information on product labels about protection against UVB and UVA.
Now that you have got the gist what sunscreen is all about and how it protects your skin. Check out our new range of sunscreen products!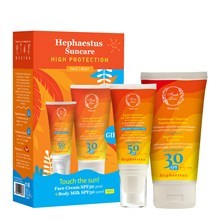 Fresh Line Hephaestus Face Cream SPF50 High Protection & Anti-aging

A high protection face cream with velvety texture that combine UV protection and anti-aging properties. The new age broad spectrum protection photo stable sun filters provide outstanding protection from free radicals and skin damage. The extracts of organic cucumber and watermelon retain skin moisture and offer hydration to the skin while prickly pear extract , rich in polyphenols provides antioxidant protection. Its soft creamy texture offers a pleasant skin feel while it doesn't leave oily residue. It's recommended for fair, sensitive or mature skin. Suitable for all skin types. Fragrance free. Water resistant.
Fresh Line Hephaestus Body Milk SPF30
A multifunctional, soft, creamy textured milk that is suitable for the whole family with natural sun filters! It is easily absorbed by the skin, leaving it smooth, hydrated and protected with a summery creamy coconut scent. The combination of advanced broad spectrum photo stable UV filters with superior antioxidants prevents skin damage. Rich in anti-inflammatory botanical extracts, it immediately reliefs the sun induced irritations. The nourishing combination of wheat germ oil and olive oil delivers deep hydration, softness and increased elasticity. Ideal for sensitive skin too. Its water resistant formulation keeps skin protected when in water. Suitable for whole family. Ideal for sensitive skin. Water resistant.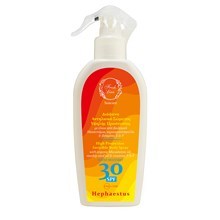 Fresh Line Hephaestus Invisible Body Spray SPF30 High Protection

A new age, non-sticky and fast drying sun care choice with transparent coverage! This new high protection sun spray protects the skin's natural defenses and contribute to a smooth skin feel. The combination of advanced broad spectrum UV protection with antioxidants prevents the formation of free radicals during sun exposure while shields the sun from damaging rays. The organic macadamia nut oil and vitamins E & F offer extra antioxidant protection and reinforced barrier function. It is water resistant, photo stable and in a practical pump. Suitable for all skin types. Ideal for people who enjoy transparent protection, outdoor activities or water sports. Use the product before sun exposure. Apply sufficient quantity and reapply frequently to maintain protection, especially after perspiring, swimming or toweling.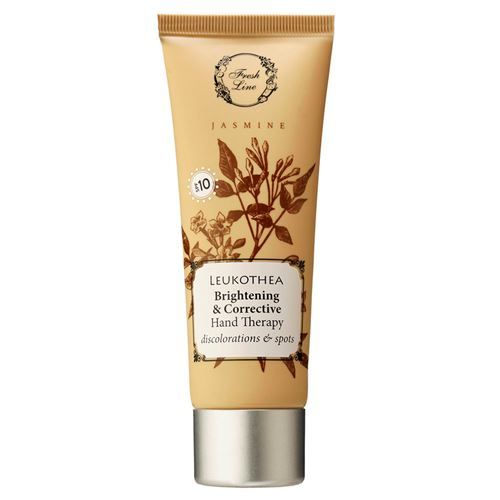 Fresh Line Leukothea Brightening & Corrective Hand Therapy SPF 10

We have introduced sun protection for the face and body, but what about our hands? Do they need sun protection? The answer is a definite YES! Our hands are often neglected, yet they are the first to show signs of aging as they are so heavily utilized in our daily lives. So of course they deserved some much needed TLC. This unique, Intensive Brightening and Corrective Hand Cream especially formulated to lightening the appearance of dark spots on the hands, providing more even skin tone. Based on Greek organic olive oil, organic aloe and cocoa butter that deliver rich nutrients and superior hydration in order to keep hands soft, supple and protected throughout the day. Enriched with Cretan Sand Lily extract that has shown to prevent melanin synthesis and deliver significant reduction of the pigmentation of dark spots on the surface of the skin. A unique skin lightening complex of clinically proven ingredients visibly improves skin tone and luminosity. Lipominoacids offer a natural alternative to chemical methods to control hyperpigmentation, decreasing the chances of dark spots formation. SPF10 effectively protect the hands from UVA & UVB radiation that is the main cause of skin damage, discolourations and spots. Free of harmful bleaches or hydroquinone. Recommended for daily use.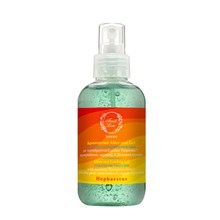 Fresh Line Hephaestus After Sun Cooling Gel

The most refreshing after sun care. An easy to use soothing gel that replenishes your skin's moisture after sun exposure with a light breezy summery scent. Enriched with Tasmanian Berry a clinically proven ingredients that reduces the appearance of skin redness while offers soothing and anti-inflammatory action. Its composition of natural sugars not only offers 3D hydration but also creates a hydrating veil that prevents skin's water loss. The extracts of prickly pear, cucumber and watermelon offer antioxidant protection and moisture to skin. Organic aloe vera and bisabolol impart a soothing effect on sun exposed skin. It dries instantly without traces of oiliness. Suitable for all skin types.
*Quick tip: keep your After Sun Cooling Gel in the fridge for a deliciously chilly hit after a day soaking up the rays and remember to hydrate on the inside by drinking plenty of water. Apply liberally after sun exposure.
Check out the new gift sets for Fresh Line Hephaestus Face Cream SPF50 and Body Milk SPF30. They make a great gift for family and friends, so don't miss out and get one for yourself too! There are limited sets so grab them before they are gone. You can purchase all products from our online store https://www.riwhomespa.com and our retail store at Thomson Plaza #01-26!